Congratulations Human! You are perhaps about to become a community manager.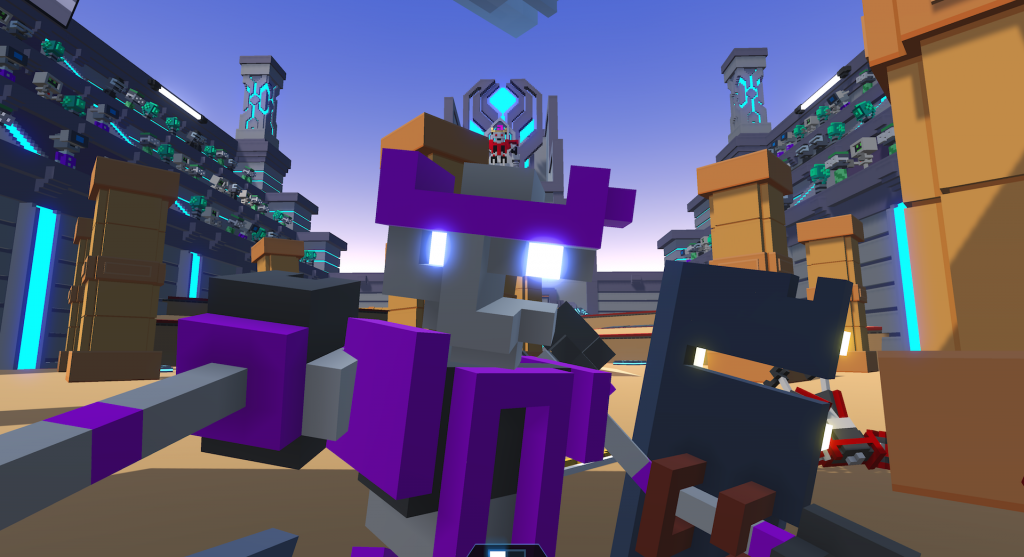 Clone Drone in the Danger Zone is a rare indie early access hit with a uniquely satisfying voxel destruction mechanic, an epic thrill-filled story mode, and delightful humor. Like, voxel-perfect enemy destruction, precision combat with glowing laser swords, and giant hammers that shatter your enemies. Heck yeah.
During Early Access development on Steam so far, we've grown a passionate following, with 7k+ reviews at 96% (Overwhelmingly Positive), average median/mean player play times of 10 and 23 hours, a thriving online multiplayer competitive/co-op community, and the Steam Workshop has over 29,000 community-made items.
> And we have not even reached our final form.
We're gearing up for a big launch early next year! And we may be looking for YOU, an already amazing person—who will become an amazing community manager with us. You will be an integral part of amplifying the game's growth running up to and during the launch. You'll be one of the faces of the game.
You'll learn from our experienced gamedev and game communications teams. You won't be alone, and we want you to learn and grow alongside us, for this and even future Doborog games. The skills you build will apply to games, communications channel growth, and any future endeavor growing a community.
And, of course, we want to pay you to do it!
Online / remote
10-15 hours per week
Major Responsibilities
Monitor and Participate in Community Communications Channels
Steam Community / [email protected] email – e.g. when users report crashes, offer them a link to our steps to fix it. Respond to requests for game keys from streamers (checking they are who they say they are, too!)
Steam / Itch Forums – engage with community members!
Steam Workshop – players have made over 29,000 items! Dive in and find the gems, and surface them to players and streamers. It's so important to encourage new creators when they're just starting out. Respond to some of their work and be a cheerleader advocate for their creative endeavors.
Establish feedback loops between players and the dev team – get a feel for the pulse of the community, what players are happy about / unhappy about at the moment and a sense of what's high priority for us to work on next.
Forward bug reports you come across to where we track the bugs, or poke the devs if it seems like something very urgent
Moderate!
Is someone being mean/toxic on Discord, or another community channel? You will comfortably wield a variety of suggestions, warnings, and Banhammers™ across our channels. Use consistent guidelines to communicate the rules and respond to user behavior effectively, in a way that calms instead of inflames community-damaging behavior.
Play the Game!
You'll be playing a lot of Clone Drone! Hope you like it, and bonus points if you're very good at it.
Capture video! Find really cool stuff to capture that we can put in e.g. trailers later on.
You'll learn the level editor enough to demonstrate features to players, and support setting up shots for epic gameplay captures.
Ideate, Produce, and Promote Delicious Content to the Indie-Game-iverse
Make some great video content! Playing the game, playing user-created levels and challenges, demonstrating features, supporting trailer makers in capturing epic footage. What else? Let's brainstorm with you and our marketing team.
Post stuff places! Work with our marketing team to manage media content and rough posting schedule. Work with us to come up with fun posts that provide real authentic value to our community members, and feature their work regularly.
Hello, OBS! Your video content may be live on our Twitch, YouTube, or Steam Store, or be chopped up and uploaded to YouTube and various social channels.
Tweets! You should be comfortable on Twitter, know the room.
TikTok! Whaaa?? Let's do it! We think short videos may lend themselves to the sweet voxel destruction and joyful humor of Clone Drone. Our marketing team has some experience here, so great opportunity to learn with them if you're interested.
Create guides and tutorials for topics that are frequently asked about (level creation), whether video or text/images.
Help Coordinate Events
What could these be?? We have some ideas (competitive tournaments, level creation competitions), but we'd love to brainstorm with you, too. You should not be afraid of juggling emails and outreach to partners, using Google Spreadsheets and Calendar to stay organized. You may also pick up some of the art of project management, or at least how to use tools like Asana/Trello effectively 🙂
Produce videos of events that share out highlights!
YOU are…
A human
We won't budge on this one, sorry robo-friends.
A voracious learner, entrepreneurial at heart
If you've experienced growing a YouTube or Twitch channel, it's a bit like that. There's no single book to read, but hundreds of useful blog posts and conference talks with sometimes conflicting advice. There are people you can reach out to who are experts, and you're excited to learn from them and seek out feedback to continuously iterate on your work.
Things will change! You'll be getting advice from talented creatives! The games landscape changes rapidly. You should be flexible. This is improv! Constant change presents opportunities for learning, not reason to lament sunk cost.
A Consistent Creator
Social and community efforts reward consistent effort! You should be comfortable setting a content schedule and preparing regular posts. Automation tools can help, but there will always be an aspect of putting in the reps, shoveling coal on the hype train to get it rolling while simultaneously experimenting to discover what our solar-powered locomotion may be.
Skilled at The Medias™
Formats change, but basic skills around video capture and editing, graphic illustration, and clear, concise, compelling writing will serve you well. You may not be a full time illustrator or have epic motion animation skills, but you are comfortable composing a nice YouTube thumbnail with an image editor of choice. You know how to take a compelling-looking screenshot, or throw together a quick 10 second gif with some juicy slices.
A Funny Personality!
Be comfortable on camera! You can be your authentic self and post it on the internet. Players will look at your face and get to know you.
You goof around. You find things funny. You can come up with analogies.
H u m o r. You should enjoy making people laugh, in a "oh isn't this world just fun and hilarious 😊" way, not a "this is why you suck 🧐" way
You can keep up with, and perhaps even advance the state of the memes™.
Social!
You're not alone! You'll be working with a team, including some experienced professionals who will be your sensei to learn community management and social engagement for indie games. You should be comfortable reaching out to awesome people in the indie game, publishing, and streaming communities for advice on how to improve and for initiatives.
You encourage others. You celebrate everyone's wins, and cheer them up when they're down. "You can do it!" This game is hard, and so is creating community content. Lift the mood, keep it light, encourage resilience and positive growth in others!
Kind, patient, considers where others are coming from
U mad, often? Nah, u never really mad, since you prefer understanding where others are coming from. Periodically raging at this rage-inducing game (especially for the entertainment of others) is totally natural, but if you find yourself often getting in arguments, you will quickly be exhausted in this role (and be creating more work for yourself and the team, and hurting the community, etc.). This job is to be the cool friend to all our other good friends, so it's easy and enjoyable for us all to stay good friends <3

Empathy: in this role, you'll be dealing with a broad array of players and partners on the game—players and content creators who care a lot about the game but perhaps encountered a frustrating bug, community members who are working through interpersonal differences, and streamers looking to make a video in their limited time. Bringing extreme empathy to the table makes everything less surprising, and less exhausting.
Patience: you'll be there with us through the ups and downs of releasing a popular indie game. You should be able to keep your cool, stay positive, and carry on in the face of the chaotic times—and set an example for the rest of the community 🙂
Bonus: You've managed a community on Discord before.
These are not hard and fast requirements, just guidelines! We value learning and growth and an ability to pick up new things.
Want to apply? Reach out to Brian at

[email protected]
👉 Closing date is Friday, October 23rd at 6pm EST! 👈
If you have a resume or LinkedIn, cool, include it! No worries if not. We would love if you could link to / include any of your work that might be especially relevant to this role—some ideas of possibilities (totally optional):
If you stream, where at? Have any social media channels we can look at to see some of your communication style?
Have you played Clone Drone? Sick! What parts have you played? What is your experience level?
If available, a link to some video content you've produced
If available, a link to somewhere with graphic content you've produced
If available, link to a piece of paragraph+ length textual content you've produced
If available & you happen to already be a level editor, a link to a level you've created. Not super important, so no need to create one before reaching out to us 🙂
If available, if you happen to meme, how's about an OC meme you've made
We mostly want to get a sense for your voice and where you have experience already, but by no means do we expect you to have all of these, or already have worn all of the hats this role will have you potentially wearing.
We're looking to get started soon, so don't hesitate to reach out! <3