We have had lots of requests to give people the 3D models from our game. We are so happy that our community enjoy the art from Clone Drone and have made brilliant pictures and animations of their own!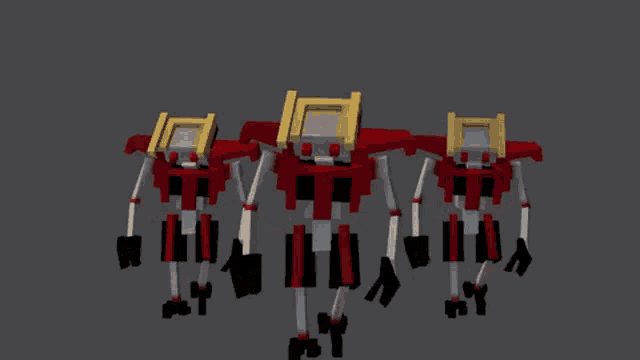 Things you can't use these 3D models for:
You are not allowed to claim these models are your own work.
Do not use these for any commercial project. That is any work that makes money from the use of these models.
Don't put them in other games.
Thank you to Niek for converting these MagicaVoxel files for the community!
We like to see cool stuff and love to share them with our community. If you use these to make something then please send them to us through any of our social channels like Discord, TikTok, Twitter, Reddit or Email!
FAQ:
What are the limits on using these models?
You are allowed to create animations and pictures using these models. You are not allowed to use them to create your own video game or put them into other video games.
What is this art style called?
It's called Voxel Art! A Voxel is a cube that we use like a 3D 1×1 lego block!
How did you make these models?
We used a program called Qubicle to design the robots. Our Artists spent a long time creating them! You can see their work here Zach Soares, Matt Olick, Gary Lucken.
How can I make art and animations like that?
If you want to create a level or animation and don't know what program to use then we suggest using the Level Editor which is available on the PC version of Clone Drone. Otherwise there are a lot of programs such as Blender and MagicaVoxel that allow you to create 3D art.